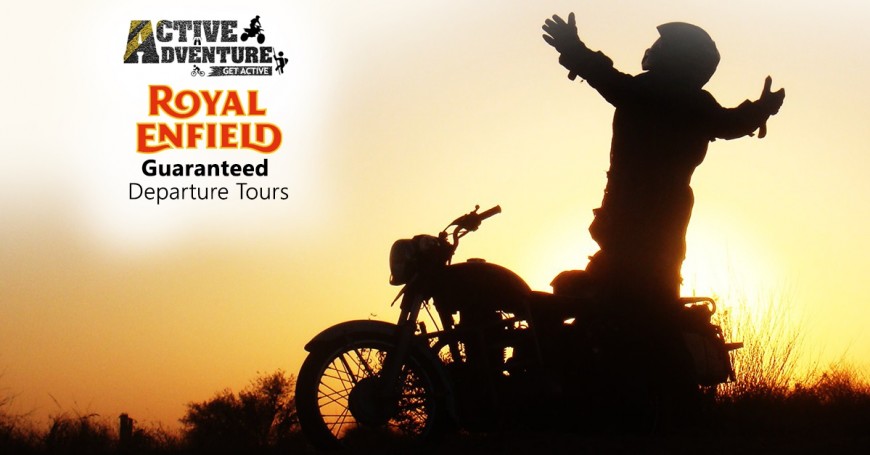 The cult status that Royal Enfield has obtained amongst bike enthusiasts is out worldly. Few bike brands can claim such a fan following and loyalty. From the Bullet to the Classic to the Thunderbird and Continental GT, bikers swear by the phenomenon that is an Enfield bike.
The thrill one gets from cruising along a road on a Royal Enfield bike is incomparable. They say that at some point, the biker and the bike become one. The bike simply transitions into an extension of the biker himself. That is where eternal riding bliss is.
To relive this thrill, Active Adventure brings its Royal Enfield Guaranteed Departure Tours between Tamil Nadu and Kerala. The dates of these tours are 17th December 2015, 9th January 2016, 22nd January 2016 and 2nd February 2016.
So if you are an individual who loves the thrill of riding the beast through country roads and feeling the exhilaration of the experience, or are part of a group of Enfield enthusiasts, set your calendars for the above-mentioned dates and join other Royal Enfield riders from across the country for a thrilling adventure. The route is challenging and takes one through the midst of Nature, where man and machine become extensions of each other.
What can be more stimulating than the humming of tens of Enfields as they fill the air with their characteristic exhaust noise? And what could be more exciting than driving alongside a complete stranger with whom you are bonded only through the common link of the love for an Enfield?
There is no threshold number of registrations and we are a go on the set dates even if there are only a handful of riders. But we know that we will have a huge number of riders eager to have a shared experience of driving through the beautiful countryside of the fascinating states of Kerala and Tamil Nadu.
Come and join this thrilling adventure as we ride the beast through routes it truly belongs to.
Royal Enfield Guaranteed Departure Tours Starting From Tamil Nadu-Kerala
On December 17,2015 – Chennai To Cochin, Click the Facebook Event URL Given Below to Get More Details
https://www.facebook.com/events/1805923132967994/
On January 9,2016-  Chennai To Cochin, Click the Facebook Event URL Given Below to Get More Details
https://www.facebook.com/events/806414996133786/
On January 22nd, 2016- Only Kerala (Cochin to Marari), Click the Facebook Event URL Given Below to Get More Details
https://www.facebook.com/events/1701898466709406/
On Febraury 2nd, 2016- Cochin to Chennai. Click the Facebook Event URL Given Below to Get More Details
https://www.facebook.com/events/199159690422675/