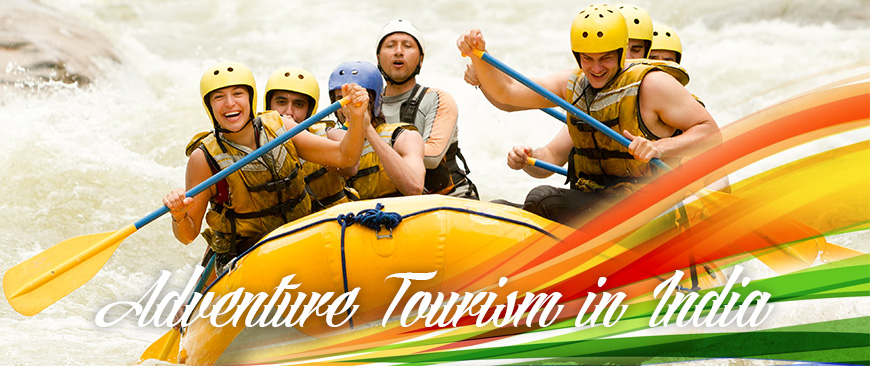 The definition of Adventure Tourism would vary according to different types of people. The term can confuse most people, but the best possible definition states that it involves some type of outdoor activities around the natural environment with the outcome of the activity remaining unknown.
Even though others have had been moving around the world, people in India took to adventure traveling in recent times.While there was a steady rise in this form of traveling, India has now emerged as one of the leading adventure tourism destinations in the world.

The tourists coming to India are thrilled by what they come across here. There is hardly any other country on the planet that is as varied in terms of culture, geography and weather conditions.
The leading adventurous activities available in India include:
Mountaineering
Mountaineering is highly popular in India because of its Himalayan ranges, the highest mountain range in the world. The Himalayas offer ideal locations for rappelling and rock climbing, and the valleys and gorges are thrilling and offer higher levels of challenges.

Trekking
Uttaranchal is an absolute paradise for adventure activities in India! The mountains and valleys here, offer breathtaking, enthralling trekking opportunities. Don't let go of any chance to rush to the Himalayas and spend some alluring time trekking through the panoramic beauty and de-stressing in some of the most blessed hill stations in India.
Scuba Diving
India has an extremely long coastline that has helped scuba diving to become a highly sought after adventure sport. The waters of Goa, Lakshadweep and the Andaman and Nicobar Islands make the perfect place for scuba diving and snorkeling.
Elephant Safari
India is home to the Asian tiger and elephant. There are a large number of tiger reserves and national parks that make elephant safari a leading adventure activity in the country.
You can enjoy this adventure in the Amber Fort in Jaipur and watch tigers from the safe height of sitting on elephant back.
River Rafting Adventure
The large rivers of the country including the Brahmaputra, Ganges, Yamuna and the Kali have aggressive rapids that help tourists to enjoy thrilling river rafting experiences. For an adventure lover, India offers you everything to help you quench your thirst for adventure.
Self-drive in India
The most prominent hub for self-drive holiday in India is Goa. Goa was the first destination to start the concept of self-drive. It is common to spot young travellers as well as old ones on different kinds of vehicles right from bicycle to cars exploring the streets of Goa. Exotic places like Ladakh, Lahaul and Spiti Valley, Rajasthan, Gujarat and Madhya Pradesh are explored on self-drive trips by avid voyagers.
Active – Adventure in India is dedicated to offering exciting adventure trips. We specialize in Adventure India tours that encompass the Wild Himalayas, the North and the North East of India. We have designed dedicated tour packages under the guidance of Industry experts. Book your adventure now at www.active-adventure.com