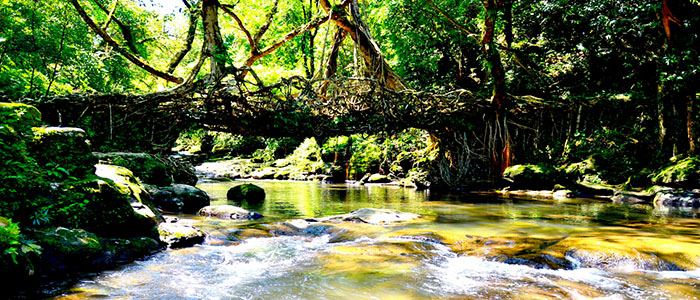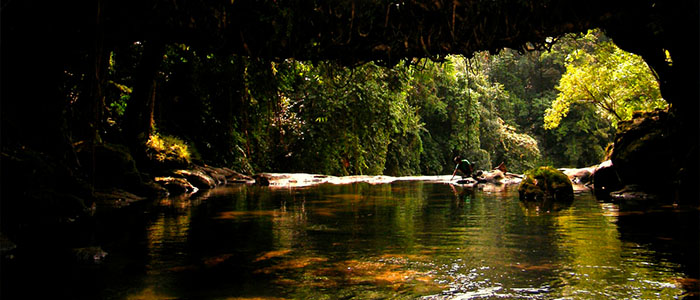 LIVING ROOT BRIDGES 6N/7D
Tour Itinerary
Starting Point of the tour
Guwahati
Nearest Airport
Guwahati
Ending Point of the tour
Guwahati
Nearest Airport
Guwahati
Day 1: Guwahati to Cherrapunjee
On reaching Guwahati, drive to Cherrapunjee, the wettest place on earth and get comfortable at a cozy, eco-friendly guesthouse, run by a very hospitable couple.
Day 2: Umunoi
A perfect example of the symbiotic living between man and nature, Umunoi, with its living root bridges is a sight to see after a 4-hour trek.
Day 3: Double Decker living root bridges
If the Umunoi root bridges fascinated you, the double-decker living root bridges will leave you speechless. A sight of the most brilliant living architecture is worth all the effort of a 5-hour long trek.
Day 4: Cherrapunjee
At the end of a 3-hour trek is the promise of warmth and relaxation at the natural warm water pool. Get busy angling and relax around the little campfire.
Day 5: Mawlynnong
How busy you want to be during the first half of the day is left to you. You could just lay low and indulge in bird watching or visit the nearby villages and get a glimpse of the local life around the woods. By end of the day, you would reach Mawlynnong where you would be settling well above the ground in your tree house.
Day 6: Mawlynnong
Mawlynnong is considered the cleanest village of Asia. Spend the day going around and exploring the fascinating little village.
Day 7: Mawlynnong to Guwahati
Head back to Guwahati.
TOUR ENDS
Booking is subject to availability.