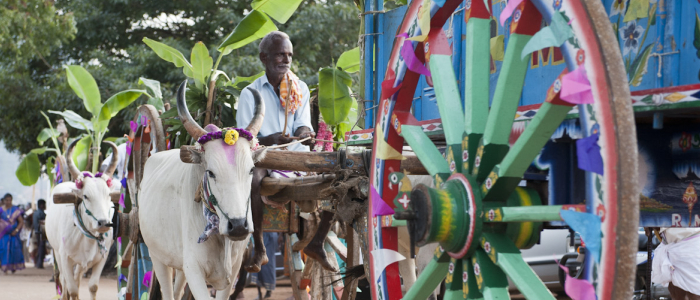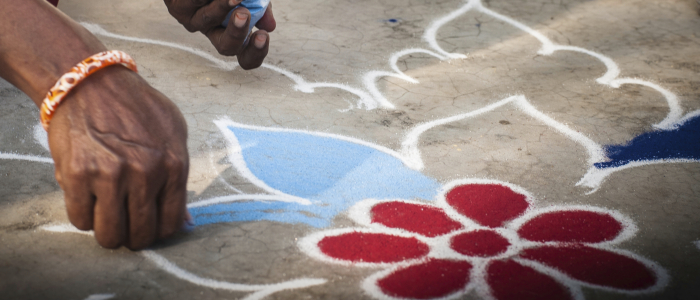 RURAL INDIA 4N/5D
Tour Itinerary
Starting Point of the tour
Mamallapuram
Nearest Airport
Chennai
Ending Point of the tour
Mamallapuram
Nearest Airport
Chennai
Day 1: Mamallapuram
On arrival, our representative will pick you up from the airport and bring you to a hotel at Mamallapuram, a quiet seaside town. After refreshments, we leave to explore the quaint little historical town. You would be surrounded by remnants of the Pallava clan of South East India, which includes UNESCO sites such as the Shore Temple, Arjuna's Penance and the Five Rathas. You will be picked up from the Chennai International Airport and transferred to the hotel at Mamallapuram. After refreshmentsyou are going to explorethis historical town. Mamallapuram is pre-eminently testimony to the Pallavas civilization of south-east India. We visiting UNESCO sites like shore temple, Arjuna's penance and Five Rathas.
Day 2: Mamallapuram to Kancheepuram
After an early breakfast, we ride to Kancheepuram, a town famous for its gorgeous temples and its renowned crafted silk weaving industry. En route to Kancheepuram, we will pass by some interesting sights of lush green paddy fields, mud houses with thatched roofs and little village schools and its classes under the shades of trees. We could stop by and chat with the farmers and school kids who'll be more than eager to share their stories with you. On reaching Kancheepuram, we visit its famous temples and a silk weaving center. driving to Kancheepuram via Thirukalukundrem to explorepaddy fields, Village temples, village schools, leaf tented houses and local market. You will get chance to interact with school students and local people. Later drive to Kancheepuram. Kancheepuram is a popular for its gorgeous temples and renowned crafted silk weaving industry.We are going to witness few old temples and one of the silk weaving center in Kancheepuram.
Day 3: Kancheepuram to Thiruvannamalai
Today we ride to Thiruvannamalai. En route we stop by at the Gingee Fort, one of the few surviving forts in Tamilnadu. It is magnificently built and was once considered impregnable and was called the 'Troy of the East, by the British.Thiruvannamalai is famous for its magnificent Shiva temple covering about 10 hectares in area. It has a gopuram(tower) that is 66m high and also has the famous thousand pillared hall.Today driving to Thiruvannamalai via Gingee fort. It is much more popular for its temples than forts. The fort is the "most impregnable fortress in India" and it was called the "Troy of the East" by the British. Then drive to Thiruvannamalai. Thiruvannamalai Shiva temple is one of the largest in India and it covers 10 hectares. The spectacular gopuram (tower) is 66m high and dates from 750AD. The market area around the temple is really vibrant.
Day 4: Thiruvannamalai to Pondicherry
After an early morning breakfast, we will head tofor the two caves high up on the Arunachala hill namely Skandashramam and Virupaksha Cave. It is here that Ramana Maharishi, a famous sage, is believed to have spent 23 years before where Ramana Maharshi had spent 23 years before moving down to the foot of the hill whichhill, which is now known as Ramana Ashram. The peaceful ambience of the cave instantly brings a calming effect on the visitors who reach there after a strenuous trek. Then we are drivingWe then ride to Pondicherry that was once a French colony. It is interesting to know that people still understand French and there is a strong French influence in the old quarters. It is a pleasant mix of the East and the West with places such as the Auroville and Sri Aurobindo Ashram being visited by many tourists. to Pondicherry. This Indian – French town known for itsmixed culture, colonial buildings, Sri Arabindo Ashram and the international village called Aurovile.
Day 5: Pondicherry to Mamallapuram
After enjoying this multicolored town, we are headinghead to Auroville. It a small town North of Pondicherry, which was conceptualized as an International town where unity would be celebratedand where spiritual vocation was sought for all.Auroville wants to be a universal town where men and women of all countries are able to live in peace and progressive harmony above all creeds, all politics and all nationalities. You could visit the meditation chamber and pick up some trinkets and souvenirs from the shops and galleries.The meditation champer, shops and galleries are really interesting.Then Later, we ride back via the scenic ECR Road that runs parallel to the shoreline and reach Mamallapuram. you are going to drive to Mamallapuram via the scenic ECR Road.
TOUR ENDS
Booking is subject to availability.